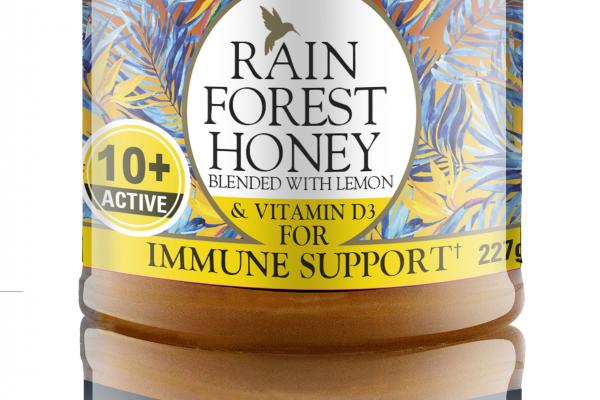 Life is sweet with rainforest honey
12th September 2018
Life is sweet with rainforest honey
Honey isn't just Winnie the Pooh's favourite – it's ours too. Delicious and versatile, it goes perfectly with pudding, but that isn't the only benefit of this golden wonder.
Where is rainforest honey from?
The honey you will find in our online store is 100% pure active honey from the forests and mountains of Southern Chile. The native Mapuche people have understood its magic for generations, and now they share their prized honey with the world.
In this pristine Chilean landscape, the native ulmo, quillay and tineo trees provide a home to the bees as they make their tasty honey. The location of each hive is carefully chosen, with an eye on the weather, proximity to livestock, and other factors that can affect the bees' productivity.
What are the benefits of rainforest honey?
Full of vitamins and nutrients, rainforest honey is good for you both inside and out. Add it to cold drinks and food, or eat it straight from the spoon, to enjoy its many benefits.
Can I use rainforest honey on my skin?
Honey is a natural remedy when both used internally and topically on our skin. Providing a variety of vitamins, minerals, trace elements and enzymes, honey helps to nourish the skin giving it a natural glow. Rainforest honey is an active honey which has anti-bacterial qualities which will help heal the skin making it useful for spots and blemishes. Check out our Rainforest Honey face mask recipe (link)
Is rainforest honey suitable for vegetarians?
If you have a meat-free diet, you can still enjoy our rainforest honey to sweeten up dishes or desserts. It is also free from GM ingredients, and doesn't contain any nasty pesticides. Our rainforest honey is raw and unpasteurised too, which maintains its activity and keeps those vitamins and nutrients intact.
Rainforest honey vs manuka honey
Rainforest honey is tested in the same laboratory as Manuka honey in New Zealand and has a similar potency. They both have anti-bacterial properties, but work in different ways, due to the natural component they contain.
Back