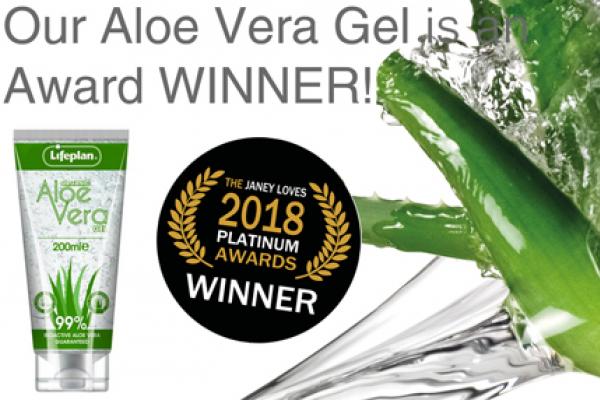 Lifeplan win at the Janey Loves 2018 Platinum Awards
16th January 2019
Lifeplan win at the Janey Loves 2018 Platinum Awards
Lifeplan's Organic Aloe Vera Gel took home the top prize in the highly sought after 'Sensitive | Problem Skin' category at the 2018 Janey Loves Platinum Awards, in association with UK Health Radio.
The renowned awards founded to champion natural, eco and organic products, recognised Lifeplan's Aloe Vera Gel for its contribution to the sector. The award holds brands to the highest natural standards, acknowledging their efforts to educate and support consumers in maintaining health through eco-friendly products.
Founded by radio and TV personality Janey Lee Grace, who herself has a huge passion for the health, wellbeing and eco industry, the awards aim to support consumers to have the best choice of natural health products. Since its conception, the Janey Loves Platinum Awards has sought to bring recognition to brands and people contributing to natural, eco, organic product and services throughout the industry.
The awards categories range from skincare, hair and beauty products to health and wellbeing, food and drink, parenting, charities and much more.
The awards are selected after 'real life' testing by their panel of judges of key influencers including Zoe Ball, Carrie Grant, Jo Wood, Dale Pinnock, Gynis Barber, Lynne McTaggart and Dr Marilyn Glenville.
What is the Organic Aloe Vera Gel?
The Lifeplan Organic Aloe Vera Gel is 99% pure bioactive Aloe Vera, that helps to soften, soothe and moisturise the skin. It is vegan friendly, and helps with dry skin conditions, stretch marks, sunburn and minor burns to aid in the revitalisation of your skin. So if you are looking for an organic product to boost moisture during the cold winter season, our award winning gel is sure to do the trick.
Back