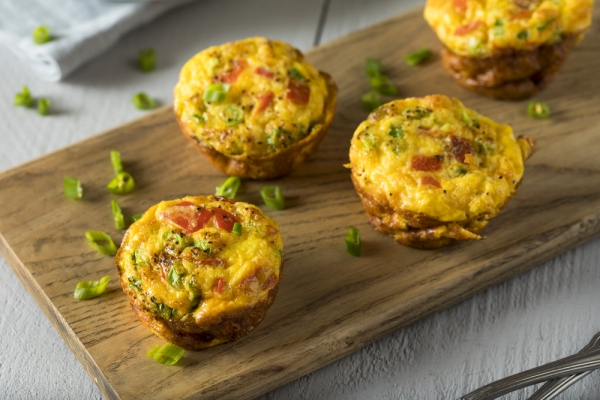 Egg Muffin Recipe
24th July 2020
Egg Muffin Recipe
Food sources like egg yolks provide us small amounts of vitamin D. Here is quick and easy recipe to follow for breakfast, brunch or lunch time meals.
Ingredients:
- 9 free range eggs
- 2 tbsp soya/oat milk
- 1 finely chopped tomato
- A handful of finely chopped spinach
- 150g crumbled/grated feta cheese
- Salt to taste
- Black pepper to taste
- 12 cup muffin tray
- Oil to grease the muffin tray
Method:
1.
Crack all 9 eggs in a bowl and milk, tomatoes, salt and black pepper. Give it a good whisk
2.
Lightly grease each cup in the muffin tray with a drop of oil.
3.
Add some spinach in each cup, leaving space to add the egg mixture on top.
4.
Using a large serving spoon, pour the egg mixture in each cup and sprinkle some feta cheese on top.
5.
Place the muffin tray in an oven marked at 180⁰C for about 30 minutes or until the egg mixture have risen and is looking golden brown.
6.
Serve warm with some salad and enjoy!
Back