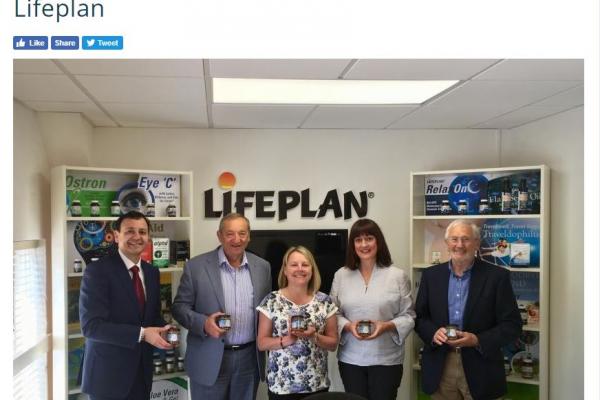 Leicestershire MP Alberto Costa visits success story Lifeplan
14th September 2018
Alberto visited our offices to congratulate senior executives on their new funding £500,000 announcement and to hear their ambitious plans for expansion.
Alberto said, "I have had the immense pleasure of visiting Lifeplan on a number of occasions since my election in 2015, and during that time the company has gone from strength to strength. This recent funding announcement of the £500,000 from the Government backed Midlands Engine is yet another chapter in Lifeplan's success story and I couldn't be more pleased for this brilliant Leicestershire company and their staff".
Chairman of Lifeplan, Mr Melvyn Sadofsky, also said, "Lifeplan has dedicated more than 35 years to bringing retailers and customers high quality vitamins, minerals and nutritional supplements and we are proud to be a UK small business based in South Leicestershire. Over the last few years our business has been growing and we believe that there is scope for us to grow even further. As a result, we are delighted to have recently received £500,000 of finance through the Midlands Engine Investment Fund (MEIF). The fund will help to double our annual sales over the next three years and develop new product lines. It will also allow us to secure new state of the art machinery and increase the size of our workforce by 20 over the next four years. Working with our local MP not only gives us valuable insight into the South Leicestershire economy but also provides us with a voice which can address any issues we face as an expanding SME at a national level.
Alberto added, "Small and Medium Enterprises (SMEs) are very much the backbone of our local and national economies, and so it is especially excellent to see an organisation like Lifeplan secure this very welcome funding which will allow them to employ more people and manufacture more product. As a local Lutterworth company, predominantly employing local people, I am really proud to see Lifeplan setting such a wonderful example for other organisations in Leicestershire".

Click here to see the full story: https://www.albertocosta.org.uk/news/alberto-visits-leicestershire-success-story-lifeplan

Back